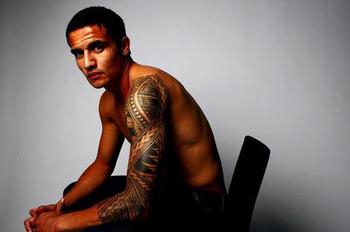 Everton's Tim Cahill
Tattoos used to be a taboo thing in everyday life and in sports.
Week in and week out, you see players with new Ink or notice a design you had not scene the last time you watched them play.
In past years, they have taken a huge upswing in popularity off the pitch as well as on it, and it is not just the men that are embracing the trend.
Here are the top 25 tats in football.
Aston Villa midfielder Stephen Ireland has a massive pair of wings across his back.
Napoli's Slovakian attacking midfielder Marek Hamsik is adorned with multiple tattoos, including his most noticeable forearm partial sleeve on his right arm.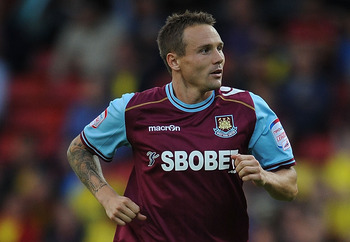 Christopher Lee/Getty Images
West Ham United midfielder Matt Taylor is another English League player that has a full right arm sleeve.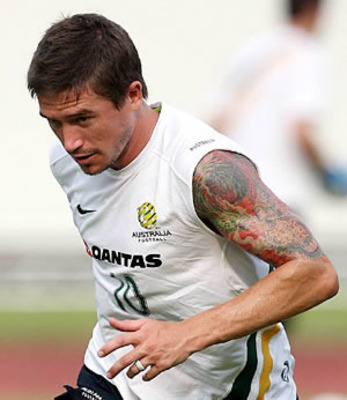 Melbourne Victory and Australian international Herry Kewell has one of the few full colored tattoo's that are noticed in the world of football body art.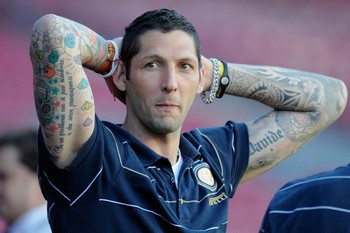 Former Inter Milan defender Marco Materrazi has his arms covered with two sleeves of tattoos and even has a rendition of the 2006 World Cupwhich the Italians won.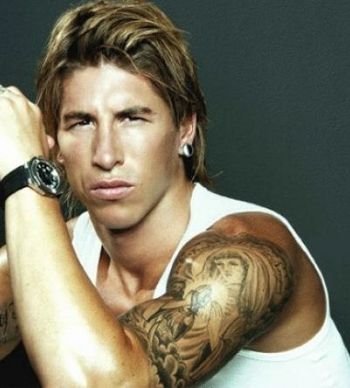 Real Madrid pretty boy Sergio Ramos has his fare share of tats, including this partial bicep sleeve on his left arm.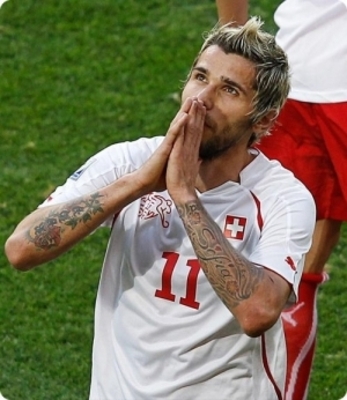 Swiss international and Fiorentina wide player Valon Behrami has been collecting more and more tats over the years. He has finished a nice left sleeve and is working on his right.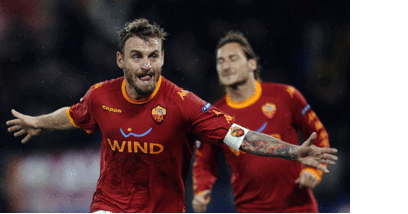 Roma's midfield stalwart of Daniele De Rossi has a great color sleeve on his left arm.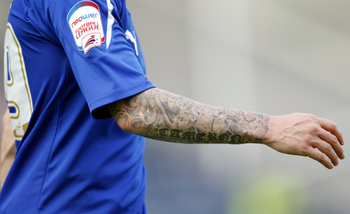 Liverpool's Craig Bellamy has a great left arm sleeve that is full of multiple intricate designs.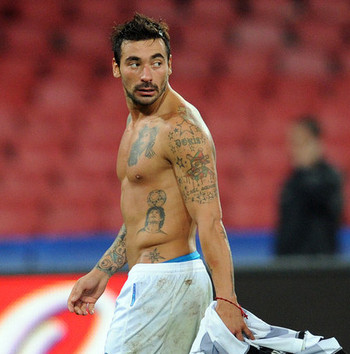 Napoli's Ezequiel Lavezzi continues to add to his left arm sleeve in process.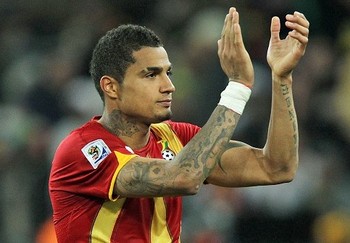 AC Milan attacker Kevin Prince-Boateng has already filled in one sleeve and could still work for the new left side sleeve.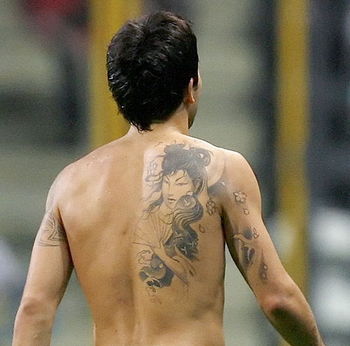 Brazil and Fluminese midfield playmaker Deco is one of many players to use Asian inspiration for their art work.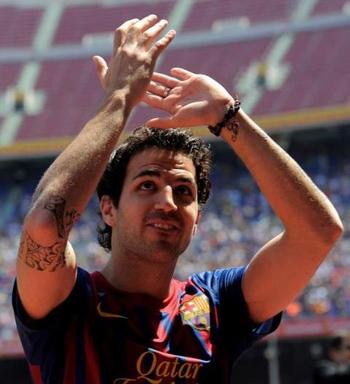 Cesc Fabregas could do so much more with this elbow wrap, but it remains to be seen if he will.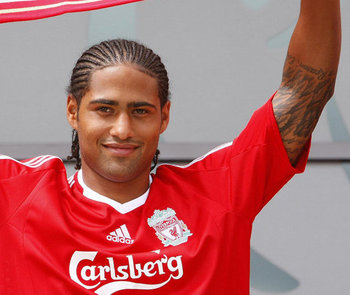 Liverpool and England right back has a sweet partial sleeve on his left arm.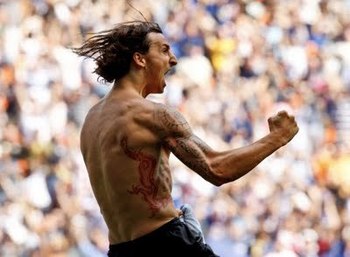 AC Milan and Swedish international striker Zlatan Ibrahimovic has some great pieces already, but he could tie more of them together over time.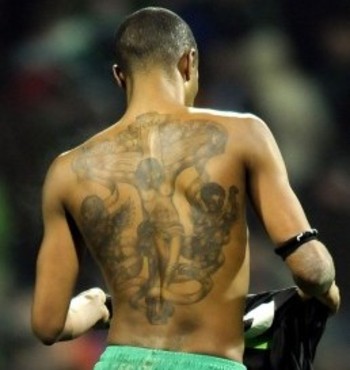 Werder Bremen's Naldo has his full back covered in ink.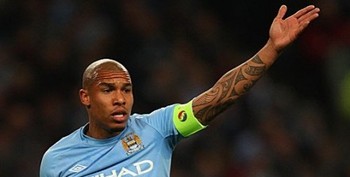 Manchester City defensive midfielder Nigel De Jong has a great tribal design down his left arm.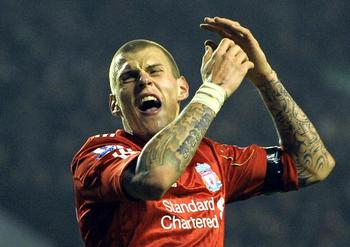 Yet again, a Liverpool player makes the list in Martin Skrtel.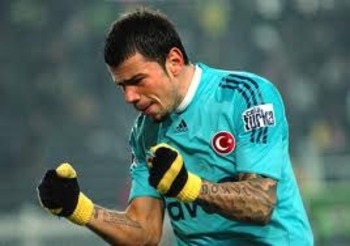 Retired Serbian footballer Mateja Kežman had a great sleeve on display during his day.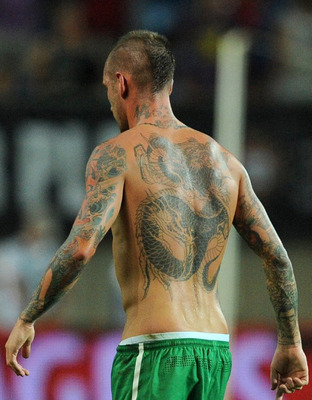 Portugal and Chelsea attacking midfielder Raul Meireles has a massive dragon on his back, as well as two full arm sleeves.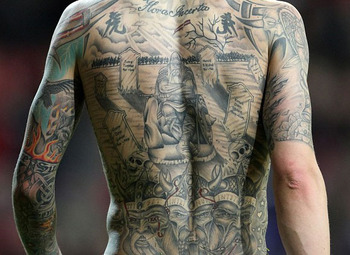 Daniel Agger is another Liverpool player that has some major artwork across his body, including this impressive viking scene.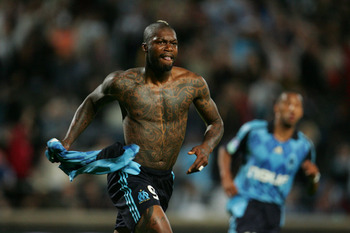 Queens Park Rangers new signing, Djibril Cisse, has over 40 different tattoos on his body including, a set of wings on his back.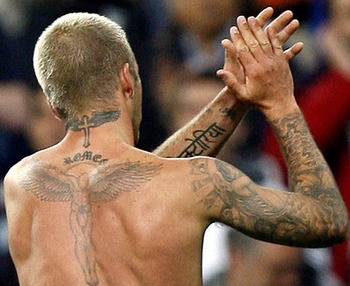 While the picture above does not show all of his artwork, Los Angeles Galaxy midfielder David Beckham is perhaps one of the most well known for his tattoos in the game.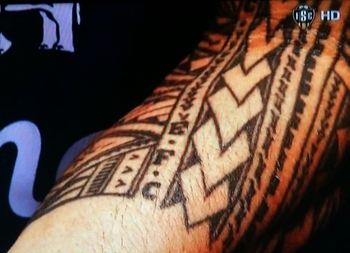 Everton and Australian International, Tim Cahill, who's tattoo is fully pictured on the title slide, has perhaps the best of any 3/4 sleeve in the game.
It is a tribal design inspired by his family's history, but also pays homage to Everton as the letters E.F.C. are at the bottom on the inside of his forearm.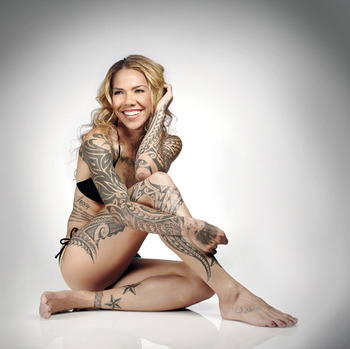 United States Women's National Team member Natasha Kai is one of the most well known tattooed female players in all of world football and the world.